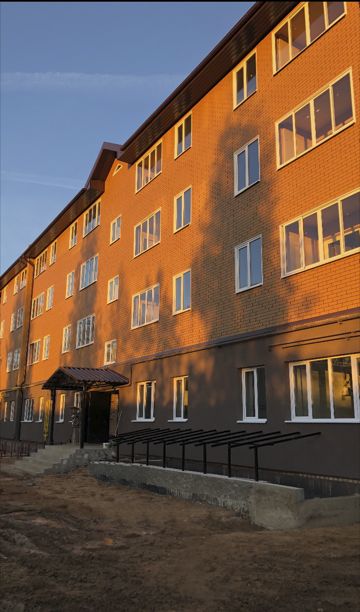 First Russia's Four-Story Timber Apartment House
October 18, 2018
By the end of 2018 "Modern Lumber Technology" Ltd. will finish the construction of the first Russia's four-story timber apartment house to be entirely built from domestic building materials produced using advanced prefab technologies.
This is a new generation of houses based on environmentally friendly engineered wood products with unparalleled strength properties:
The house frame is manufactured from Ultralam® LVL, thus making it strong, durable and reliable.
The house wall and floor panels are produced with the state-of-the-art hi-tech equipment and include Ultralam® LVL and other engineered wood materials, such as Ultralam® OSB.
Theses prefabricated houses offer high durability and long lasting appearance. The resulting homes are not only green, but also very energy efficient requiring minimum heating costs.
Another clear advantage of such houses is their fast and seasonally unaffected construction rate. The usage of wood-based structures and panels eliminates the need in reinforced foundations and heavy handling machinery for their construction.
MLT Ltd. is an active participant in the development of prefabricated homes building in Russia, since wood is a renewable resource that plays an important role in the country's economy.
Find more information in the Parliamentary Newspaper (In Russian)
Find more information in the Parliamentary Newspaper (In Russian)
Latest news
June 15, 2016
MLT Ltd. have commissioned a new state-of-the-art production line for Additional LVL Billet Processing consisting of four areas.
July 6, 2016
In July 2016 a new modern plant was opened. The plant is produces environmentally friendly OSB-3 and OSB-4 board with zero formaldehyde emission.
August 28, 2016
Modern Lumber Technology LTD is now a member of NAWLA.