Frame Houses
Frame houses construction is a modern technique that allows to build comfortable, cozy, green and affordable houses within a short construction period.
Frame houses are distinguished by the following features
Sustainability of materials used;
Possibility of construction throughout the year without special activities;
Low cost foundation construction through the use of light-weight LVL structures and possibility to build on almost any type of ground;
Fast construction rate, as there is no need in preparing special mixes, working with small individual materials and using lifting devices;
No need to allow for «shrinkage» for further finishing;
Possibility to save costs on lifting devices;
Distinctive energy-saving properties with relatively thin walls due to the use of modern insulation materials;
Possibility to easily install utilities inside the walls;
Possibility of facade finishing for all and any house types;
Possibility of fast interior heating preceded by prolonged absences in frosty weather, enabled by low thermal capacity of the walls;
Optimal ratio of price/quality/reliability, cost efficiency.
Frame houses offer a wide space for imagination: one and the same house built for different people can look in different ways. This becomes possible due to multiple various finishing options.
«Taleon Terra» uses unparalleled frame houses construction technology. The basis of a frame house is formed with strong load bearing structures made from high quality LVL. Internal partition walls incorporate LVL, too.
Frame and Panel Houses
The underlying principle of this technology is a method of construction by assembling houses from prefabricated panels based on the following framing structures:
Panel framing made from Ultralam™ LVL.
Envelope structures made from a new generation, low-emission Ultralam™ LVL boards.
Currently, panel and frame houses manufactured by «Taleon Terra» Production Plant are the best option for the Russian middle class, for they offer a whole variety of exceptional advantages:
Structural simplicity;
Constructability: easy assembly at all construction stages due to the specific structure of LVL panels;
Short construction period;
Possibility of construction in any season. There are no «wet processes» during construction;
Low cost houses;
Considerable cost saving during usage;
Light-weight houses without needing concrete foundations and providing for the possibility of using screw piles.
Once building a prefabricated frame house, you will have a home for permanent residence that meets all your requirements.
Modular Houses
Оne basic module takes three 8-hour working days, i.e. 24 hours, to be completely installed on finished foundations.
Installation requirements: a crane and a team of 5-6 workers. To unload the container, a crane and a traction vehicle (tractor, loader etc.) are required.
The basic module can be reassembled up to five times without damage to its performance.
Each modular house is subjected to in-plant fit-up assembly tests, loaded into a 40-feet container and shipped to anywhere around the world to be fully completed and ready to move in within 24 hours.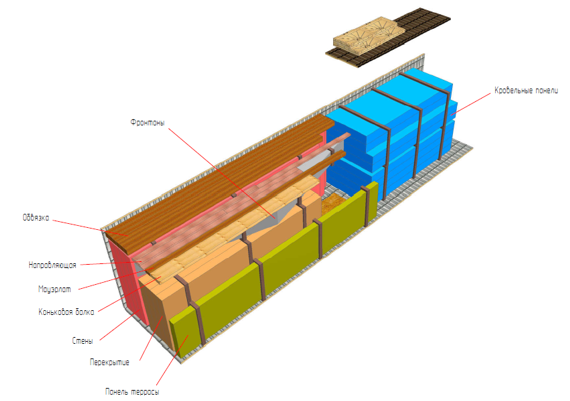 Generally, it takes from 6 to 8 hours to install the envelope, and the rest of the time is required for internal and external finishing and installation of service lines and equipment. It is possible to carry out installation and construction works under any weather conditions good enough to operate a crane.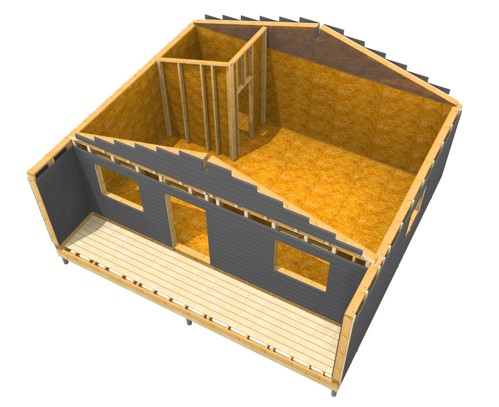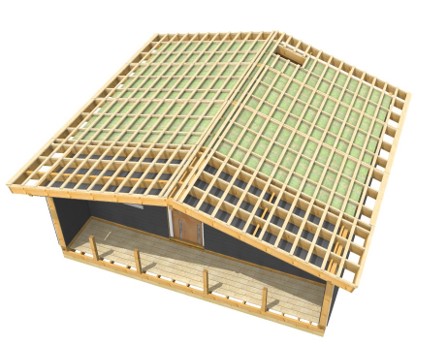 All the basic module components are factory-made using high precision equipment and do not require additional processing for installation. The frame consists of high strength laminated veneer lumber (LVL) the presence of which ensures stability and enhanced durability of the structure. The manufacturer's warranty for the load bearing frame and structural components is valid for a period of 5 years. Manufacture of all-LVL frames is absolutely exclusive on the territory of the Russian Federation. The building envelope is made from materials (LVL, OSB) which are produced at our production facility using the state-of-the-art equipment and meet the requirements of Global Standards that is duly confirmed by relevant certificates.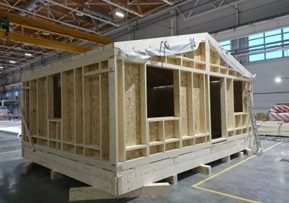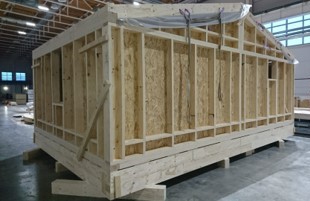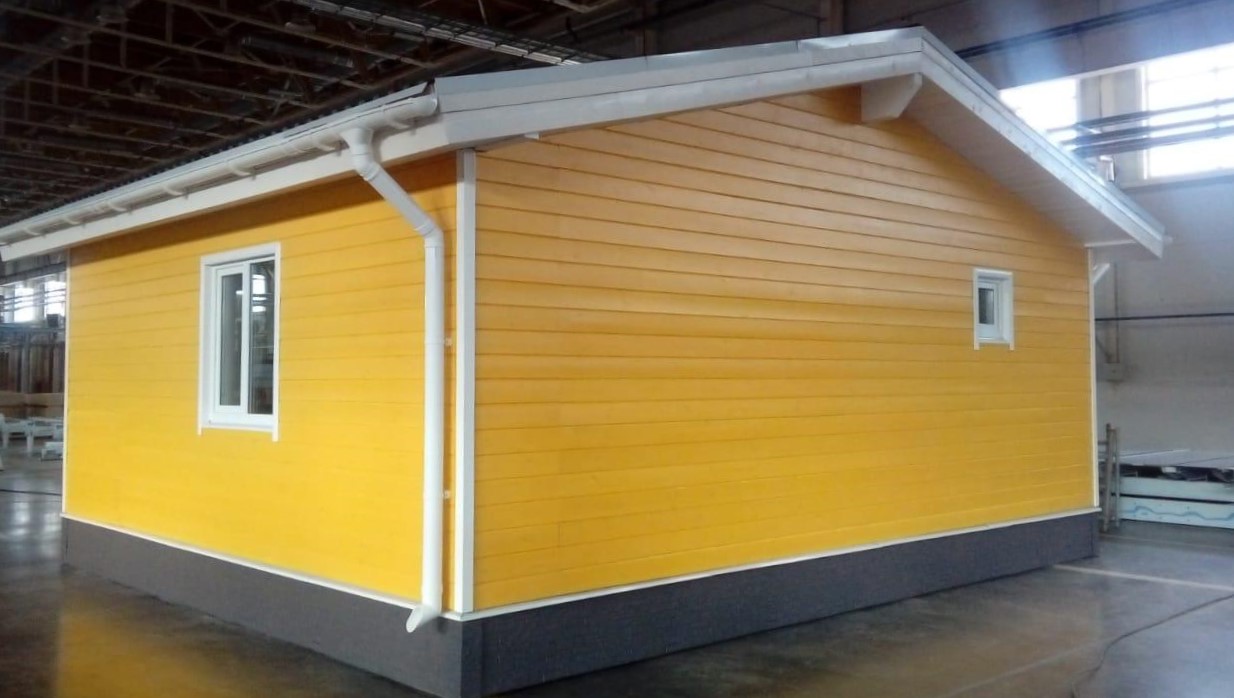 Basic modules allow to construct single or double storey buildings of different floor areas and end uses. The total area of one basic module is 30 square meters. The basic module can be installed on any type of foundations (screw piles, bored and cast-in-place piles, continuous foundations and combinations thereof). As per the agreement with the Customer, the modular home can be delivered complete with a set of screw piles.
The basic module lies in the design of residential houses with the area up 30 m2 to 120 m2.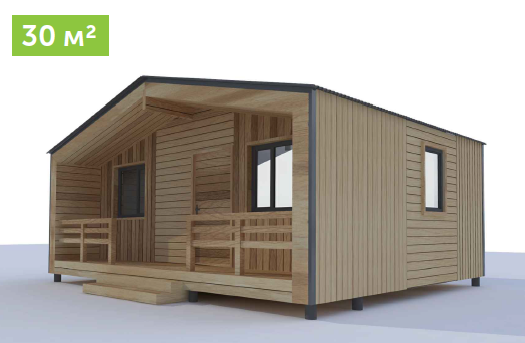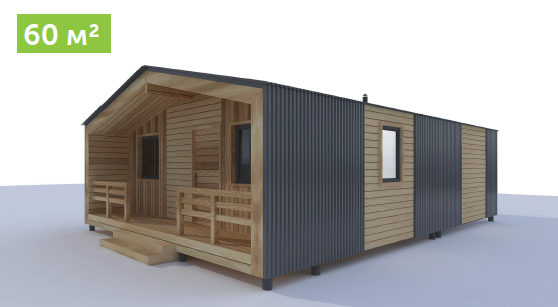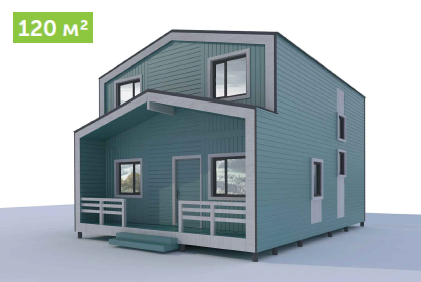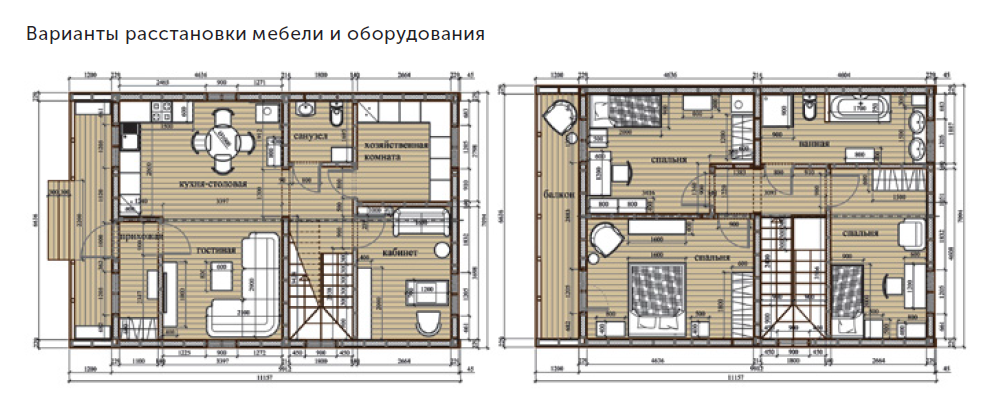 The house consists of the following components:
Basic module kit with external and internal finishing;
Windows and doors (factory installed);
Required fastening materials;
Internal service lines (piping, ventilation, electrical components);
Sanitary ware;
Installation – supervision at the Customer's construction site;
Set of basic installation tools (screw gun with bits, set of spanners, mallet, etc.).